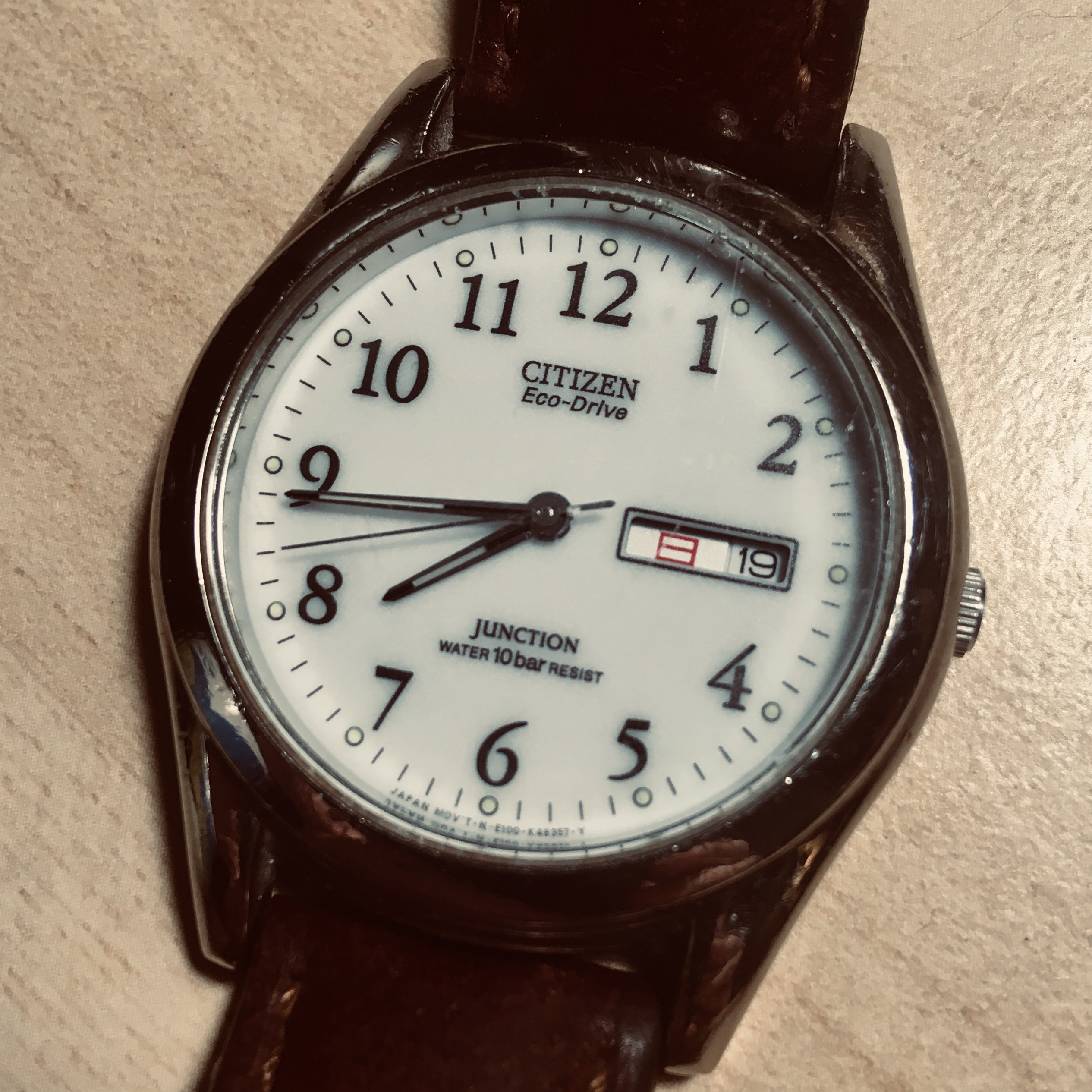 I bought the above Citizen wrist-watch when I was living in Japan. I found it simple and classy and I loved that it showed the day of the week in English and Kanji. I didn't wear it a lot at first but, for the last few years, thanks to where I work and a newfound love of all things analog, I've been wearing it nearly every day.
Until, of course, recently. Once COVID-19 made pants, basic hygiene and the tracking of time optional, a watch seemed rather pointless.
Anyway, I picked it up the other day and I noticed that the second hand was acting peculiar. It would twitch and stall, moving along in little 2-second jumps. Technically it was still working but it seemed to be winding down. And, because it was running slower than usual, it had fallen behind and was getting the date wrong.
Turn out that, because my watch is powered by light and hadn't seen any for a few weeks, it had switched to a "low charge state mode". I just needed to leave it in the sun for a few hours to recharge it. After that, once I reset the time and date, it worked great.
My job shut it's doors to the public back in mid-March. At the time, they made the remarkable decision to continue paying employees for what they would have worked. So, for the past few weeks, technically, I've been "working" but it feels like things are winding down. I've been acting peculiar. I twitch and stall. I'm running slower than usual, falling behind and I keep getting the date wrong.
Today is the last day of that payment agreement. It's been announced how work is going to handle other departments but, because my wife and I are both union performers, our fates are still up in the air. A few hours ago, we finally got an email from our union rep saying that an agreement had been made on our behalf and we'll find out the terms… tomorrow.
When I got that news, I officially entered my "low charge state mode". I gave up on the night, showered and will be in bed before 9. I hope there's good news for my wife and me tomorrow but, right now, I feel like I'm caught in the middle of one of those odd 2-second jumps.