I was recently inspired by a few bloggers sharing Year-End lists of their favorite books and movies and I wanted to do the same here but, while this past year was great for me advancing at work, sadly, it wasn't the best for watching movies or reading books.
I suppose I could go back through my Netflix history to see what all I ended up watching but, if nothing is immediately coming to mind, it certainly doesn't seem worthy to blog about. Even worse was how few books I finished in 2017. At the start of the year, I shared this "Reading for Fun Challenge" with my fiancé and, while she's halfway through her last book on the list, I didn't get a single check mark. Embarrassing. I know I can't be a good writer if I'm not reading so I'm really hoping to make that a focus in 2018.
But, one thing I DID do this past year was listen to music. A lot of music. Records and MP3s and a few cassettes and, according to an email I got recently, just shy of 40,000 minutes on Spotify.
While I don't love the direction that Spotify has been going this past year, ESPECIALLY with their iPhone App, I have embraced having such a large library of music at my disposal. So, let's review what, according to my listening habits on Spotify, were my Top Songs of 2017!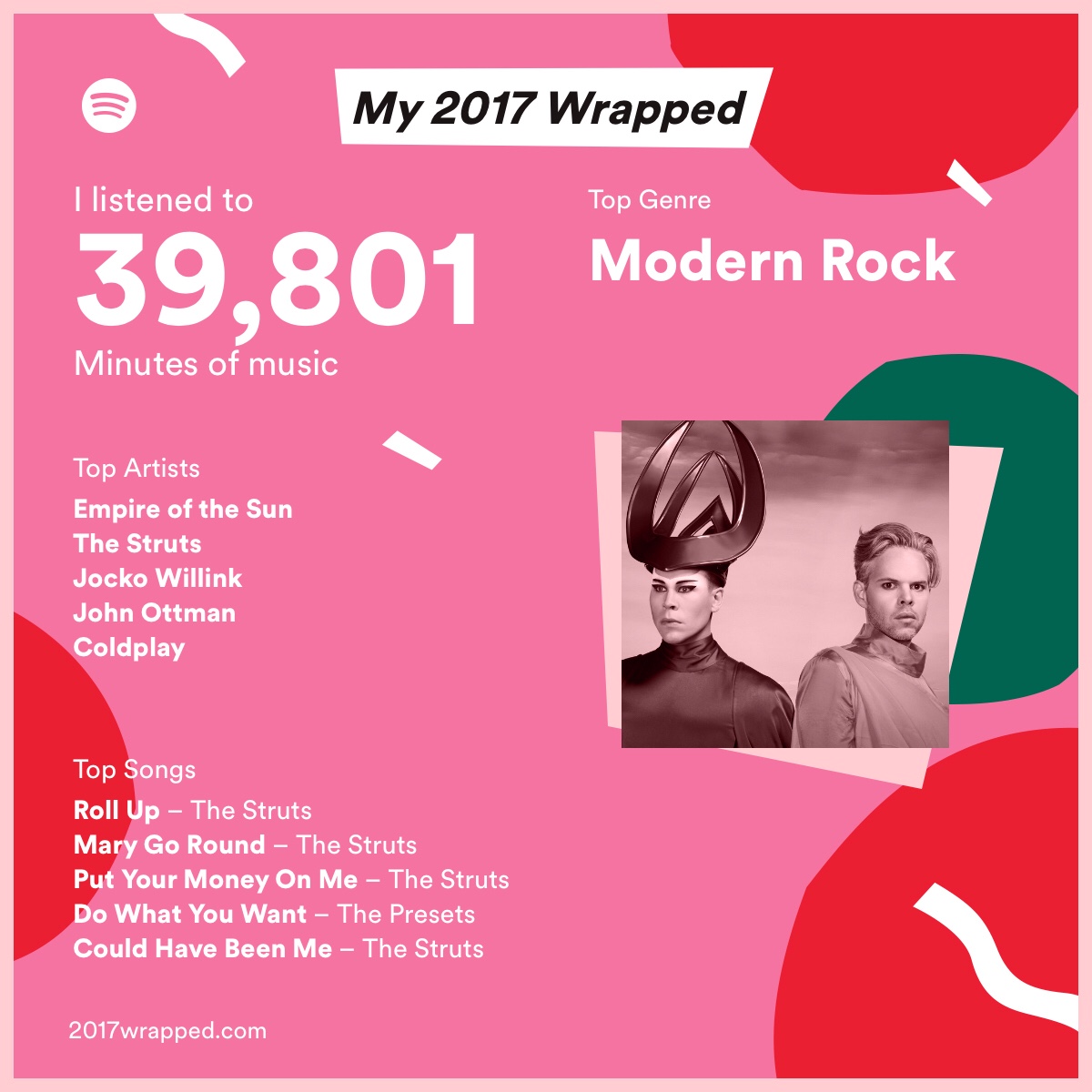 My Top Album of 2017:  Struts – Everybody Wants
I realize this album originally came out in 2014 and was reissued last year but I only discovered it this year (thanks to my brother) and couldn't get enough of it.
My Top 10 New Songs of 2017 (in no particular order):
My Top Song That I Didn't Discover Until 2017: Hall & Oates – It's Uncanny
My Top Movie Score of 2017: John Ottman/David Buckley – The Nice Guys Score
My Top Audiobook of 2017: Jocks Willnick – Discipline Equals Freedom
Spotify made me a playlist of my top songs but it was full of tracks that were work-related, movie scores (which I use for writing) or were audiobooks. So I've made a playlist of just songs that I started listening to in 2017.
Enjoy!